Corn Starch Processing Plant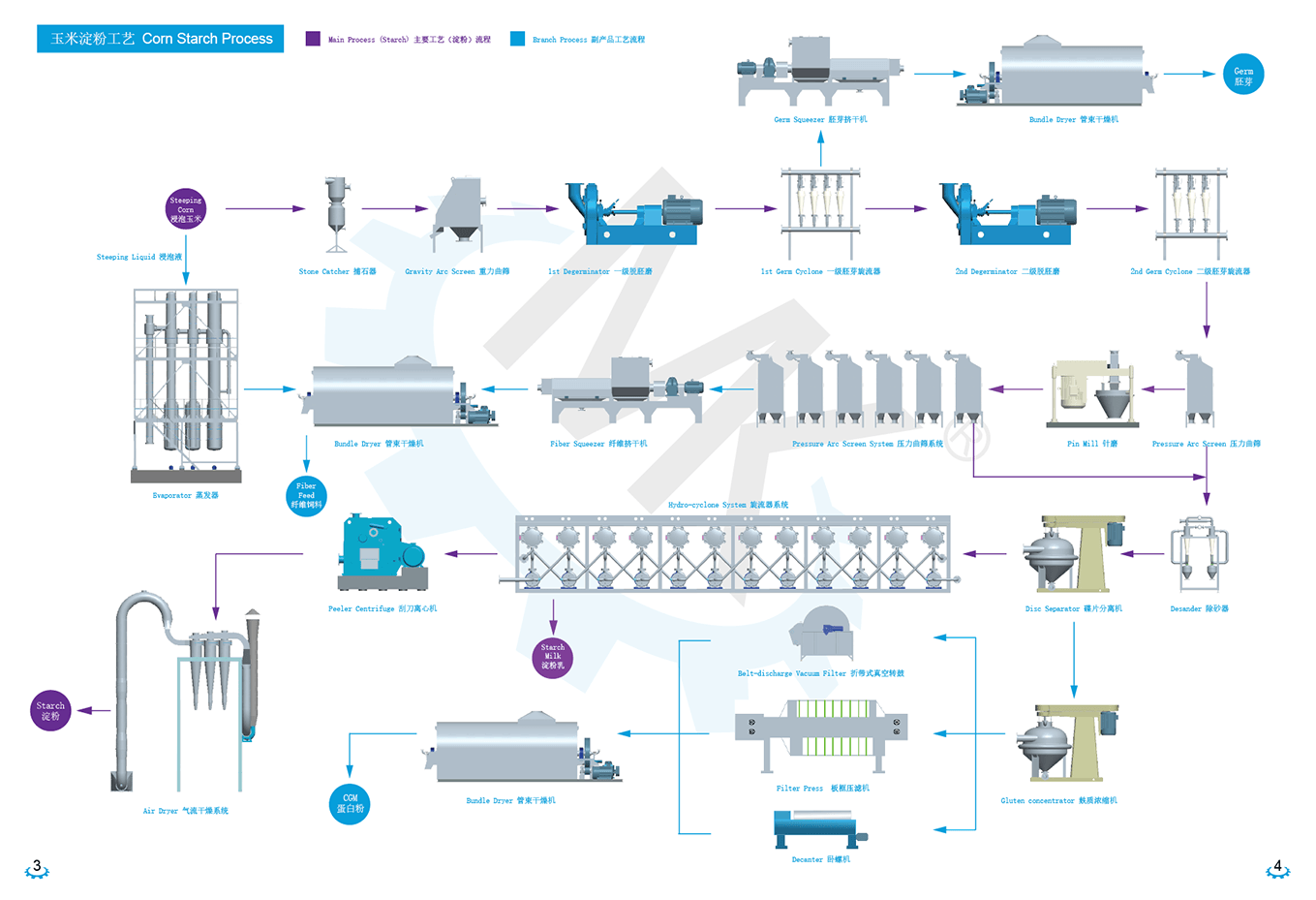 Corn starch processing (Corn starch processing plant)
(1) Purifying: Before going to storage bin, pre-purifying is done to eliminate big and small foreign substance, which will be sent to germ cake collection section. The rotary screen placed beside the storage bin, has de-stoning and de-dusting functions. Purified corn is then sent to steeping section.
(2) Steeping: Counter current steeping principle is adopted to make corn become soft in steeping tank. Acid is heated and remains about 50℃ when circulating in all tanks. Dipped corn is pumped to crashing stage.
(3) Sulfurous acid making: Sulfur is burned in furnace, getting SO2 gas, goes to absorbtion tower with china rings. Water is sprayed down, mixed with rising SO2 gas to get sulfurous acid.
(4) Corn crushing and germ separation: Steeped corn is sent to 1st germ mill from wet corn storage bin. Crashed corn is pumped into 1st germ cyclone and screen to separate, and then goes to 2nd mill for further crush. Germ goes to 2nd germ cyclone, and then the light phase will be back to previous tank.
(5) Fine milling and fiber wash, dewatering, drying: In pin mill, the degermed corn is multi--strongly crashed to remove fiber off. Fiber is sent to multi-stage washing screen for recovering the balance starch. Cleaned fiber goes to squeezer for dewatering then goes into bundle dryer for drying to mix with corn slurry for making animal feed product.

(6) Protein separation and starch washing: Starch milk goes to primary separator for gluten separation. Cleaned starch goes to 12 stages hydro cyclones for final washing to remove the tiny foreign items.

(7) Starch dewatering and drying: Fine starch milk is dewatered by peeler centrifuge, the starch is sent to air flow dryer for making dry starch product in which moisture should be less than 14%. The finishedproduct is wrapped up through the packer and shipped out.
(8) Germ washing, dewatering, drying, extraction oil and oil refinery: Germs from cyclone go to gravity arc screen for washing, then to squeezer for dewatering. Washed germ is sent to bundle dryer. Dried germ is fried and extracted then oil is filtered. Coarse oil is gotten at the end.
(9) Gluten concentration, dewatering, drying: Gluten is concentrated by air floating vessels then goes to vacuum filter for further dewatering. Dewatered gluten goes to bundle dryer for making gluten meal product.
(10) Processing water recovery and steeping liquid evaporation: Corn steeping liquid is sent to evaporator for concentration then goes to fiber bundle dryer and mixed with fibre to get animal feed. Process water from concentrator, dewater machine which contains SO2 and some insoluble material, can be used again to the whole system such as steeping and washing.
Project 3D design